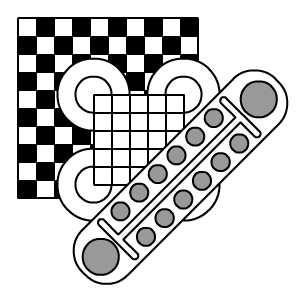 Board Games in Academia V
Call for papers
Board Games in Academia V
April 21st - 25th, 2002,
EUTSES Pere Tarrés
Universitat Ramon Llull, Barcelona

You are invited to participate in the International Colloquium
"Board Games in Academia V"
April 21-25, 2002
EUTSES Pere Tarrés, Universitat Ramon Llull, Barcelona, Catalonia
The International Colloquium on 'Board Games in Academia' invites all scholars interested in board games research to submit articles.
The Colloquium intends to discuss the role of board games in academic research and will try to enhance the multi-disciplinary co-operation in games research.
If you require more registration forms to distribute among your colleagues, please, do not hesitate to contact us.
Please observe the following deadlines:
Abstracts: February 15, 2002
Hotel registration: March 1, 2002
Abstracts / Presentations:
All abstracts should be written in English and not exceed 200 words.
All participants receive a copy of the abstracts book at the start of the Colloquium.
If abstracts are accepted, the contributors are requested to present their findings at the Colloquium. Presentations are given in English and do not exceed 30 minutes.
All speakers will enjoy priority over other participants with their hotel reservations.
Víktor Bautista i Roca

Tel: +34 609 36 2083
Fax: +34 937 89 0245
E-mail: boardgames@drac.com
Post: Rosari 12 - 08921 Santa Coloma de Gramenet - Barcelona - Catalonia - Spain
---