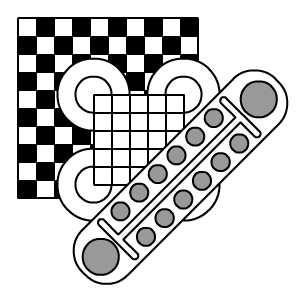 Board Game Studies Colloquium VIII
Abstracts
Mayari Granados
POST -UND REISESPIELE IN THE COLLECTION OF THE MUSEUM OF COMMUNICATION
Based on the principle of the 'Game of the Goose', from the 16th century onwards new board games appeared, which often had a moralizing or educative character, amongst them at the beginning of the 19th century the very popular Postal- and Travel-games (Games of Travelling by Post or stagecoach; Post- und Reisespiele), a racing game played on a board with dice.

The first games of that kind depict historically or politically important events and mainly aim at aristocratic and other very educated players, whereas the Travel-games of the 19th century were also very popular with less educated people, as they were produced rather cheap with new printing techniques. Those games depict on the board different stadiums of travelling by post, railway and ship, together with sightseeing places.

The Museum of Communication in Frankfurt/Main (the former Postal Museum) has a collection of Travel-games of the 19th century, which can serve as examples for this kind of games. Those games are not only of interest as a 'new' game, but also as a testimony of the custom of travelling by post, the only regular traffic for many centuries. The modern player gets an idea of the strain of such a voyage, but also of the adventure of travelling in the past centuries.