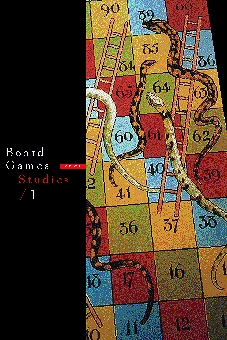 Articles / Articles / Beiträge
Research Notes / Notes de recherche / Forschungsberichte
Book Reviews / Comptes rendus / Rezensionen

E.R. Santos Silva, Jogos de quadrícula do tipo Mancala, by Philip Townshend
A. van der Stoep, Over de herkomst van het woord damspel, by Rob Jansen
M. Zollinger, Bibliographie der Spielbücher, par Thierry Depaulis

Summaries

Donwload issue #1 in pdf format.
The editors have endeavoured to inform all authors prior to publishing their work online. For remaining questions or concerns, please, contact the editors.